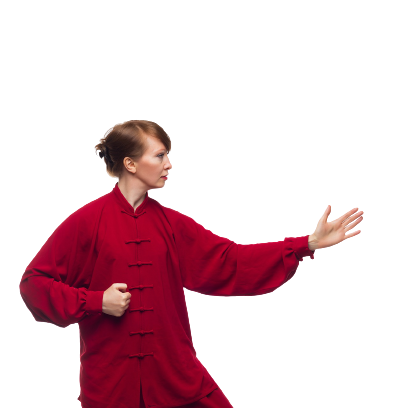 The Many Benefits of Qigong for Health & Wellbeing
By S.G. Howes, M.Ed
Some people, when first enquiring about attending a Qigong session, often ask me what it is.  Is it a martial art?  Is it a spiritual practice?  Is it an exercise?  These assumptions are not necessarily incorrect, but the answers to these questions are not always straightforward.   
Qigong is essentially a Chinese health art for wellbeing and longevity, which loosely translates as 'energy work' (Qi = energy, Gong = work).  Although harnessing external energy is a feature of most martial arts, Qigong goes deeper - focusing on the practitioner's cultivation of Qi through inner practice.  Immediately, this sets off alarm bells within many a western mind, as energy is frequently perceived as esoteric or mystical.  Yet, Qigong does not necessitate any spiritual beliefs or religious leanings.  Rather, it is simply a type of moving meditation and/or mindfulness that anchors our awareness in the present moment.  Sifu Cheung (2020) explains that the Qi nourishes and brings harmony to our body, through an integration of the body, breath, and mind. To quote the great Albert Einstein, "everything is energy, and that's all there is to it".  We become increasingly aware of this truth as we develop our Qigong practice.
However, there is a misinterpretation of Tai Chi in the Western world (Xutian et al., 2014).  To date, there are no methods available to define exactly what Qi is and how it interacts with phenomena during Qigong (Lake, 2002).  Capturing the benefits of Qigong is made more difficult as, in the West, we seek to measure individual change via physiological health parameters (e.g. BMI, heart rate, blood pressure, weight, etc) instead of adopting a more holistic approach to wellbeing - one that recognises the interconnection between mind, body and environment (Chow et al., 2012).  For this reason, Qigong challenges the notions of mainstream medicine (Gueguen et al., 2017), and so it remains on the fringes of Western culture (Chunlei, 2007).  In the East, however, they have walk-in Qigong medical centres where Qigong practice is fully prescribed both privately and publicly (Guo et al., 2018).  We know that energy work is deeply embedded at the core of Traditional Chinese Medicine. 
So, how do we harness the Qi in our weekly sessions? Well, we implement an elegant 18-movement Qigong form called Shibashi.  Qigong features easy-to-learn sequences that are accessible to all (Jahnke et al., 2010), and Shibashi is one of the simplest for newcomers to remember.  This sequence of movements is skillfully-balanced to promote harmony at the three main energetic centres of the body.  Furthermore, by focusing on our breathing, movement and sensations we learn to let go of regrets from the past and anxieties about the future by allowing ourselves to exist entirely in the present moment.  It is not surprising that Tai Chi has been reported to dramatically diminish depressive symptoms, and lower stress and anxiety in healthy adults (Lewis and Hopkinson, 2020; Li et al., 2014; Wang et al., 2014; Chow, et al., 2012; Wang et al., 2010).  Its beneficial impact has also been noted for individuals with ADHD (Heijer et al., 2017).  In fact, the dissertation submitted for my Masters degree examined the effectiveness of a Qigong intervention for reducing anxiety and promoting self-actualisation in young people with ADHD (the full paper can be accessed here).  More specifically, there are a plethora of physical and mental benefits for carrying out each movement within the Shibashi sequence (Dao Natural Health, 2021).  Increased flexibility, improved posture and better balance are all associated with this type of Qigong.  Following practice, group members also comment on how they feel calmer and more able to cope with the stresses of the day ahead.  For some, Qigong becomes more than just an exercise.  It becomes a part of everyday life, as we return to the breath to find stillness and control in moments of challenge.   
Get in touch for your free taster session if you are interested in the working with the wonders of Qi.  
Yours in energy.  Simon.
NB - A handful of academic studies have revealed that Qigong can be beneficial for helping the management of various conditions, including:
Depression & Anxiety 

Stress

Psychological Wellbeing 

Schizophrenia    

Autism 

Behavioural Disorders 

ADHD 

Anorexia 

Fatigue and Sleep Issues 

Multiple Sclerosis 

Self-Concept (Adolsecents) 

Balance 

Posture 

Dementia

  
Links to these journals can be found at the bottom of the FAQ page.
References 
Cheung, W. (2020) Qigong Mode and Tai Chi Posture Requirements.  Available at https://taichi18.com/online-video-course/qigong/  
Chow, Y. W. Y., Dorcas, A. and Siu, A. M. H. (2012) The Effects of Qigong on Reducing Stress and Anxiety and Enhancing Body–Mind Well-being.  Mindfulness, Vol. 3, pp. 51 – 59.  
Dao Natural Health (2021) Shibashi - 18 Tai Chi Qigong Sequence & Benefits.  Available at https://www.dao-natural-health.co.uk/files/Shibashi---18-Tai-Chi-Qigong-Sequence-and-Benefits 
Gueguen, J., Piot, M., Orri, M., Gutierre, A., Le Moan, J., Berthoz, S., Falissard, B., Godart, N. (2017) Group Qigong for Adolescent Inpatients with Anorexia Nervosa: Incentives and Barriers.  PloS one, 2017, Vol. 12, Iss. 2, pp. 1 - 20. 
Guo, Y.,  Xu, M. M., Huang, Y., Ji, M., Wei, Z.,  Zhang, J., Hu, Q., Yan, J., Chen, Y., Lyu, J., Shao, X., Wang, Y., Guo, J. and Wei, Y. (2018) Safety of Qigong: Protocol for an overview of systematic reviews. Medicine, Vol. 97, No. 44, pp. 1 - 9. 
Heijer, A. E. D., Groen, Y., Tucha, L., Fuermaier, A. B. M., Koerts, J. Lange, K. W., Thome, J., and Tucha, O. (2017) Sweat it out? The effects of physical exercise on cognition and behavior in children and adults with ADHD: a systematic literature review. Journal of Neural Transmission, Vol. 124, No. 1, pp. 3 – 26. 
Jahnke, R., Larkey, L., Rogers, C., Etnier, J., and Lin, F. (2010) A Comprehensive Review of Health Benefits of Qigong and Tai Chi. The Science of Health Promotion, Vol. 24, No. 6, pp. 1 – 25. 
Lake, J. (2002) Qigong.  In Shannon, S. (Ed.) Handbook of complementary and alternative therapies in mental health. San Diego: Academic Press. 
Lewis, A. and Hopkinson, N. S. (2020) Tai Chi Movements for wellbeing – evaluation of a British Lung Foundation pilot. Perspectives in Public Health, Vol. 140, No 3, pp. 172 – 180. 
Li, Y., Su, Q., Guo, H., Wu, H., Du, H., Yang, G., Meng, G., Li, C., Nagatomi, R., Niu, K. (2014) Long-term Tai Chi training is related to depressive symptoms among Tai Chi practitioners. Journal of Affective Disorders, Vol. 169, pp. 36–39. 
Wang, C., Bannuru, R., Ramel, J., Kupelnick, B., Scott, T. and Schmid, C. H. (2010) Research article Tai Chi on psychological well-being: systematic review and meta-analysis, BMC Complementary and Alternative Medicine, Vol. 10, No. 23, pp. 1 – 16. 
Wang, F., Lee, E. O., Wu, T. Benson, H., Fricchione, G., Wang, W. and Yeung, A. S. (2014) The Effects of Tai Chi on Depression, Anxiety, and Psychological Well-Being: A Systematic Review and Meta- Analysis. International Journal of Behavioural Medicine, Vol. 21, pp. 605–617. 
Wang, C. W., Chan, C. H. Y., Ho, R. T. H., Chan, J. S. M., Ng, S. M. and Chan, C. L. W. (2014) Managing stress and anxiety through qigong exercise in healthy adults: a systematic review and meta-analysis of randomized controlled trials.  BMC Complementary and Alternative Medicine, 2014, Vol. 14, No. 8, pp. 1 - 9. 
Xutian, S., Sun, F. and Tai, S. (2014) Tai Chi. In Handbook of Traditional Chinese Medicine Volume1,2&3. World Scientific, London.